Trending Team Engagement Activities in Chennai
The Perfect Blend of Fun & Engagement through Gamification
What Our Clients Are Saying
"Today we had a team engagement session with Team Activators. I think it went really well and the morning session was really fun with a lot of learning for the team and individuals as such
."
– Elena, Shell 

"As a big group of 200, we were skeptical about the the outcomes. Ten minutes
in, I could see everyone having conversations all around. And in under a couple of hours, our whole team got 
together
 as a well 
organised
 unit."
– Kushik, EY
"We wanted to incorporate outdoor activities with team building 
for our team of 150 and Team activators came to the rescue! The way they involved each employee in 5 amazing activities simultaneously 
left us spell bound. Keep up the

amazing

 work!"
– Steevan, General Mills
POPULAR TEAM BUILDING VENUES IN CHENNAI
Sometimes it's difficult to find time to take even a small break from the city for Team Engagement. So at Team Activators, we make the best of the many breathtaking getaways within Chennai that are a mere hop, skip and jump away. And what's more? We help you avail your preferred rates  and help you make your end to end logistics easier.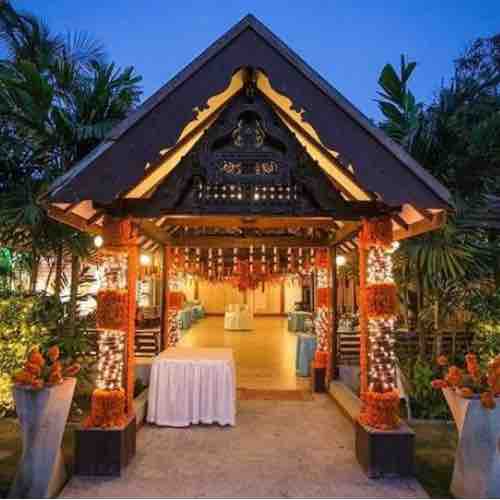 GREEN MEADOWS RESORT
Palavakkam
Located in the busy Anna Salai street, Green Meadows Resort is just a 20 minutes drive from Chennai Airport. The resort is known for it's tasteful traditional decor and comfortable rooms with all the amenities necessary to make it an exemplary stay.  It's open air restaurant combined with the exquisite Keralite food is an experience that shouldn't be missed.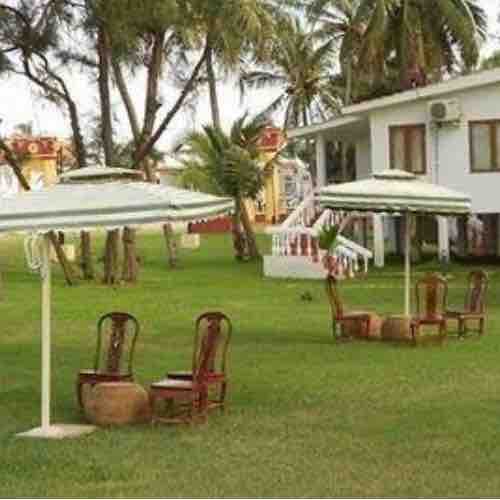 VGP GOLDEN BEACH RESORT
ECR
The resort is designed creatively as cozy cottages. To make it even more comfortable, it is well-equipped with A/C, wide balconies, writing desks and electronic safe to name a few of the many amenities. Centrally located, the resort also has lush greenery surrounding it, with stone walls and luxurious hot tubs. It is the perfect retreat with the perfect metaphor for comfort in nature.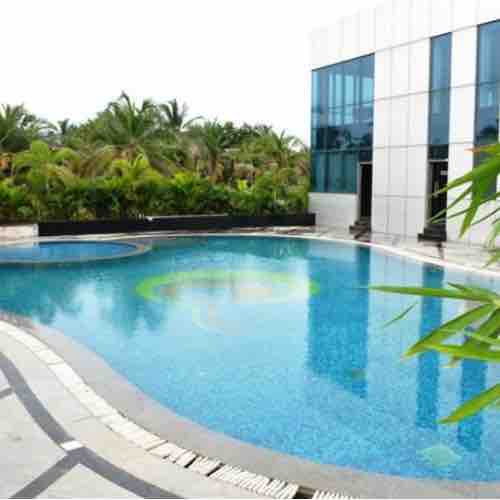 JADE BEACH RESORT
Chennai
Situated along the beautiful shores of Jade beach, this resort s the synonym for the ultimate luxurious 

experience. With its private beach being the main attraction, the resort also has a day spa and sauna. You can either choose to laze out by the pool and soak in the sun or stay in and avail the delicious 24 hours room service.  There's no shortage of comfort at Jade Beach Resort.
POPULAR TEAM BUILDING DESTINATIONS AROUND CHENNAI
Apart from Kanchipuram saris and temples, Chennai is also known for it's surrounding stunning beaches and landscapes. And at Team Activators we make the best of these breathtaking destinations to make sure your team leaves with plenty of fun memories!
KANCHIPURAM
74 km | 3h 
Known fondly as Kanchi, this small town is dubbed "The Land of Thousand Temples" because of its countless temples. When one thinks of Kanchipuram, they immediately think of the unique silk saris. But there is also a historical side to Kanchi. The Pallava and Vijayanagara Dynasties thrived in this town, leaving architectural footprints that still leave modern-day masons in awe!

MAHABALIPURAM
56 km | 1h 30m
This piece of Indian history in Tamil Nadu attracts thousands of tourists from all over the world. each year. This UNESCO heritage site is renowned for it's beautiful architecture and the hint of the Dravidian culture that prevailed aeons ago.

COVELONG
40 km | 1h 15m
Not too far from the Capital city of Tamil Nadu lies the serene fishing town of Covelong. It's known for it's pristine white shores and the influence of the various cultures like French and the British. Its sun, sand and all the fun is why Covelong is thronged by tourists all year long!
PONDICHERRY
151 km | 3h 15m
Welcome to the French colony of India! Captivating architecture and old time cafés bring in the irresistible old time charm. The well maintained city is just 10 kilometres from Auroville for anyone with a spiritual inclination. It is the perfect retreat for both culture vultures and leisure travellers, with the aromas of delicious French food and the fresh ocean breeze wafting in the air.
VELLORE
Nestled in the little pockets of the Eastern Ghats is this little town of Velore. Rich in history, this town was once ruled by powerful ancient kingdoms like the Pallavas, Medial and Later Cholas, Vijayanagara Dynasty and even has influences of the Carnatic Kingdom and British architecture. That means authentic multi-cultural cuisine and top class leather products that Vellore is famous for!

TIRUVANNAMALAI
194 km | 4h
Located on the beautiful foothills of the Annamalai Hills, Tiruvannamalai is one of the most visited spiritual cities in India, with its highest footfall of a whopping 14 crore people in 2011! Its famous Karthigai Deepam has hordes of locals and tourists flocking in from all over India. Apart from temples, this beautiful city is also known for it's shopping and food!
YELAGIRI
228 km | 5h
Dubbed "Trekker's Paradise", Yelagiri is home to the famous Swamimalai Hills. With agriculture and forestry being one of the major sources of income, this collection of quaint hamlets is a nature lover's dream destination. Lush green hills make it the best place for adventure activities and suit leisure travellers too!
KRISHNAGIRI
255 km | 4h 30m
Roughly translated to "Black Hill", the name Krishnagiri is believed to have been derived from the black granite covering the surface of the hills. This town which was once a proud kingdom ruled by King Krishna Deva Raya. Known as the land of scholars, green hills and the delicious scent of mangoes wafting in the air make it the perfect destination for a getaway.

TRANQUEBAR/THARANGAMBADI
359 km | 6h 30m
Named for its tranquility as Tranquebar, it is the land of the singing waves. Locally known as Tharangambadi, this beautiful beach town lies along the Bay of Bengal. It is influenced by a variety of cultures that called this small town home back in the day, including British, Dutch and French. 

YERCAUD
366 km | 7h
This small but flavourful town is the best place to de-stress. It has a great balance between adventure activities like trekking and a laid back atmosphere. Misty mountains make for the perfect getaway to get off the grid and enjoy the taste of lemon tea which tingles your senses.

KODAIKANAL
526 km | 9h 40m
This Canopy of Blue is South India's favourite hill station. Known for it's tea plantations, the route itself is a journey to be taken at least once. Chirping birds, winding routes and the much needed clean air make the journey breathtaking. Don't miss taking a drink from the crystal clear waterfalls and a sip of freshly brewed tea!

OOTY
555 km | 10h 30m
This quaint little town known for its tea terraces, welcomes you with the refreshing scent of Eucalyptus and fresh Tea wafting through the clan mountain air. Keeping nature at heart, delicious chocolate and authentic Tamil food compliments the cool breeze enhancing the whole mountain experience
TEAM ACTIVATORS AT YOUR WORKPLACE
At Team Activators, we have designed a fantastic set of unique activities to perfectly fit your team's engagement needs. Be it a simple energiser or a full fledged Team Building session, we've got you covered; and right at the comfort of your workplace too!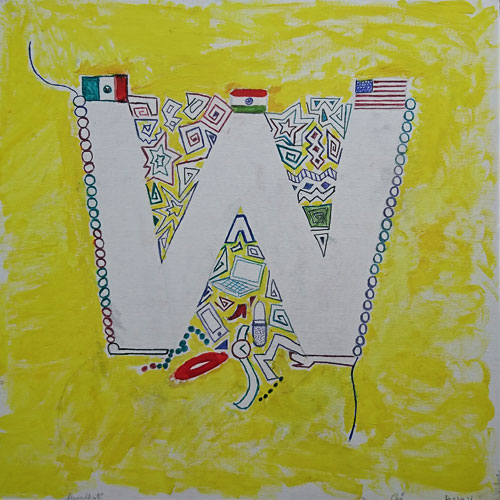 UP-DOING YOUR WOKRSPACE
When in doubt, unleash your inner child. With Doodle Your Picasso, the team members do just that. Creating a lasting footprint to up-do your office walls by creatively using your own company conference rooms!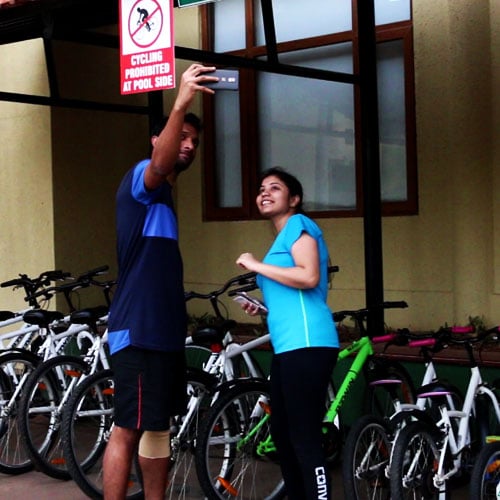 EXPLORE THE GREAT OUTDOORS
Team Engagement activities at your workplace don't just mean indoor activities. Selfie Hunt is specially devised in such a way that your team not only gets out and about, but also that your company's outdoor landscaping is optimally used. Shake it off, the selfie way!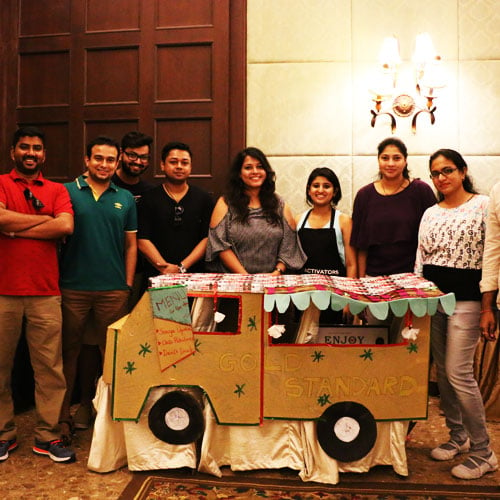 INDOOR FIASCO
When the idea are running out to keep your team engaged at your workplace, we come up with unique ideas like the Corporate Masterchef to creatively use your company cafeteria to get your team going. With wafting aromas and flying instructions, the team is bound to integrate and have a lot of fun while at it!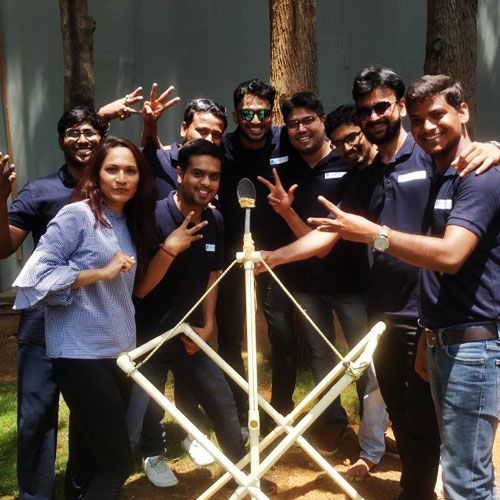 SO WHAT COMES NEXT….? 
Whether you're looking for:
– An Energizer in the middle of a long 
conference
– An ice breaker to get the team going
– All hands-on activity
– Integration of new team members
We've got you covered!
All you need to do is :