Teams work together to build a catapult that competes against other teams on range and accuracy. It requires you to get creative with Pipes & ropes and use your primitive instincts. Explore your inner Spartan and have fun while you're at it!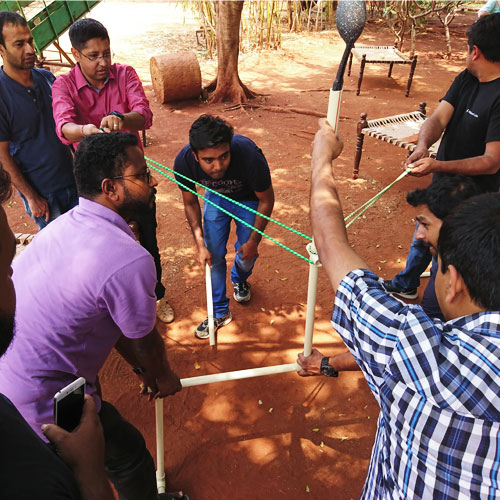 Cross Team Collaboration
Team Work
Planning & Execution
Leadership
Communication
Fun & Play
Can be tailored for: 
Gamified Learning, Members added to teams, Building trust, Team Collaboration
Summary:
Enhances individual and team growth by incorporating teamwork, trust & communication. Solidifies the cohesiveness of the group while providing key insights and applicable skill sets.
Watch out for!
– An Angry Birds Style Catapult challenge!
– The rush of roughing it up and watching your creation hitting the target!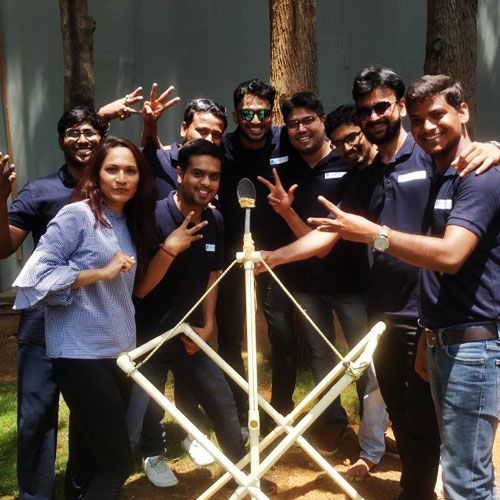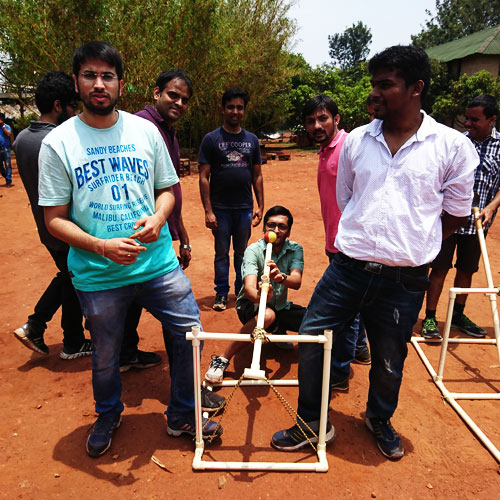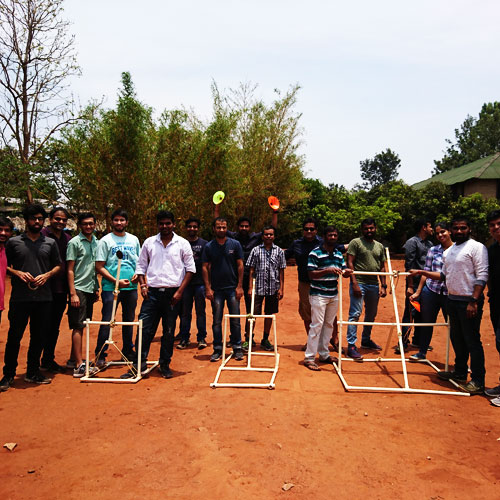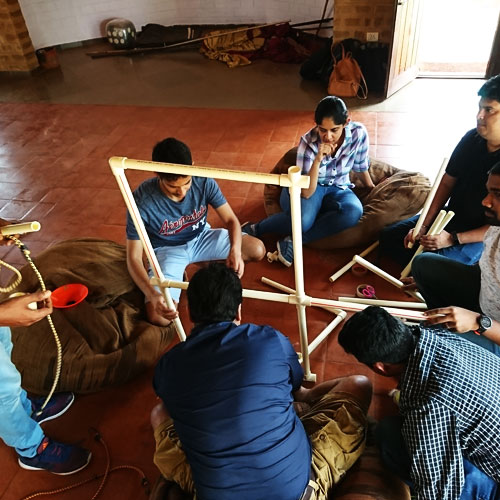 "Angry Birds turned out to be an extremely different activity. We thought it would be really easy but when we started working as a team a lot of ideas started flowing in about various models. All of us have just played Angry birds on our mobile phones but this was an entirely different experience playing it in reality. Thank you Team Activators!

– Utkarsh, Load Share
Frequently Asked Questions
Can this activity be conducted at my workplace?
Yes, Glad you asked.. We will be happy to set this up at your workplace. We can creatively use your outdoor workspace to set it up
Do you conduct this in my city?
We conduct this activity pan India. In case our facilitator is not available in your city for the requested date, we can have someone from the closest city drive down or fly in to set this up
We are a small team of 10. Can we do this activity?
To truly enjoy and exploit all that this activity has to offer, we suggest a minimum group size of 20 participants. Large group sizes are never an issue
Is first aid provided?
Yes, glad you asked. We have a trained medic available for first aid on site
Are there any prerequisites that we need to bring?
Everything is provided on site. All you need to bring for this challenge is your game face and creativity!
Does this activity engage everyone?
The activity is designed to have everyone play a role in putting together the contraption. With miniature canons and the thrill of hitting the most targets, no one would want to be left out.
Do I need a refresher course on physics?
You dont, but you will be able to win your team some extra points if you paid attention in school
Is a blueprint provided?
No, a blueprint isn't provided. This activity completely challenges your inventiveness & skill
Is the use of internet permitted?
Yes. You can use the internet to help you!
Will there be someone to assist us with the technicalitites of the challenge?
Yes. Though the activity completely depends on your team's resourcefulness, help will be provided for the technical aspects